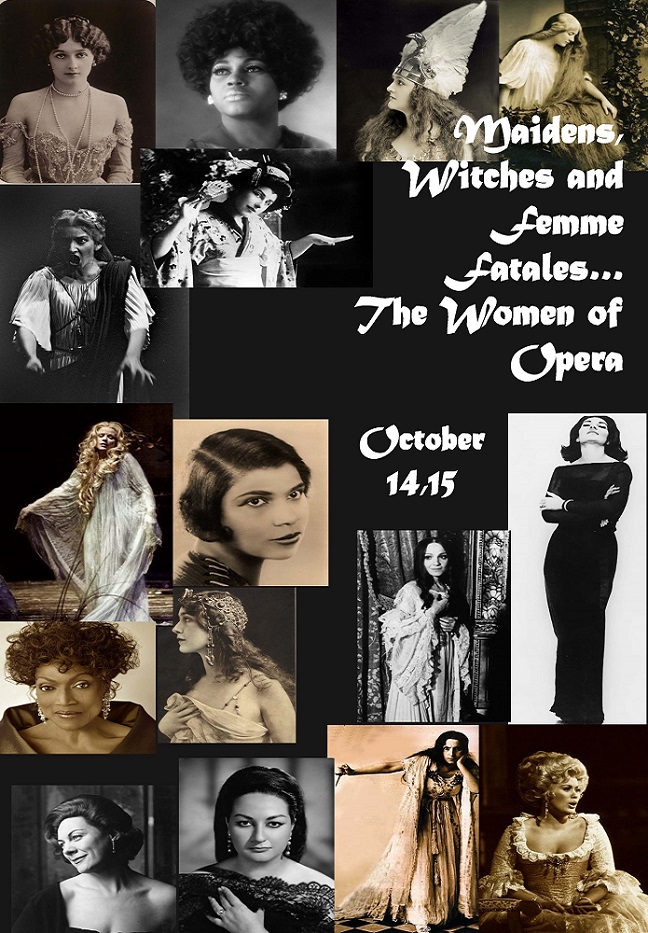 The true treasures of the opera stage … the women! … Yes, it's LADIES' NIGHT!
Join us for Maidens, Witches and Femme Fatales! This evening will feature some of the greatest arias and scenes from the world of opera, featuring some of your favorite singers from the company of Madison Lyric Stage.
Scenes and arias by Bizet, Britten, Mozart, Puccini, Verdi, Strauss, and Wagner will be performed from some of your favorite operas, including The Marriage of Figaro, Madama Butterfly, Carmen, Der Rosenkavalier, and many others!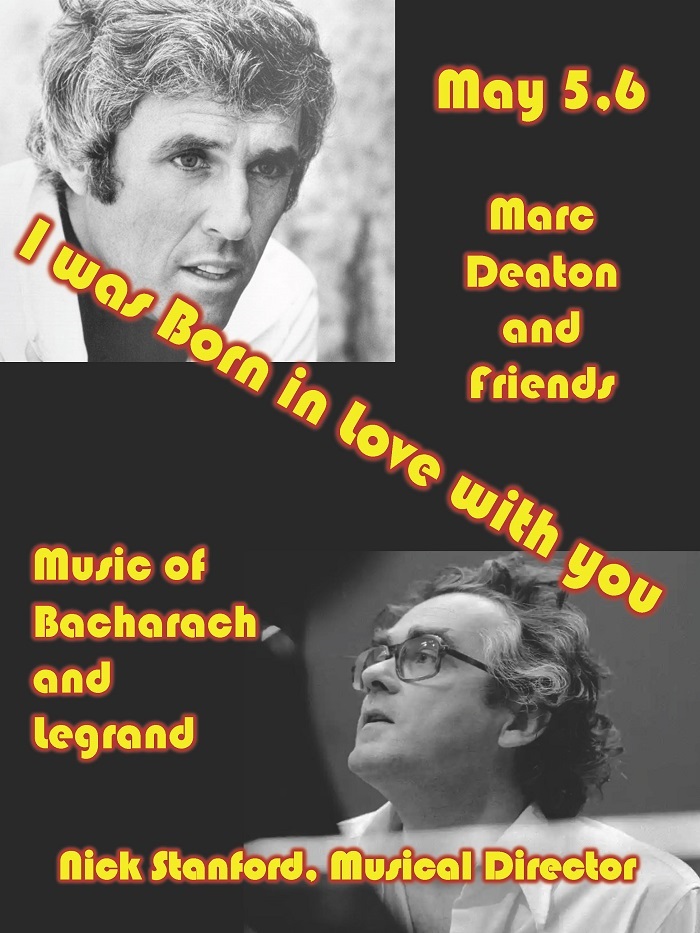 Join Marc Deaton and his special guests for our Season Opener as we pay tribute to two great composers of some of your most favorite songs from more than five decades.
Michel Legrand is known as one of the best composers for film with hits like The Umbrellas of Cherbourg. Legrand won his first Oscar for the song The Windmills of your Mind from The Thomas Crown Affair and additional Oscars for Summer of '42 and Barbra Streisand's Yentl. He is also known for his jazz works and his art songs in both French and English.
Burt Bacharach is an American composer, songwriter, record producer and pianist who composed hundreds of pop songs from the late 1950s through the 1980s, many in collaboration with lyricist Hal David. A six-time Grammy Award winner and three-time Academy Award winner, Bacharach's songs have been recorded by more than 1,000 different artists. As of 2014, he had written 73 US and 52 UK Top 40 hits. Considered one of the most important composers of 20th-century popular music, he has an unbelievable list of songs that include Walk on By, Anyone Who Had a Heart, Alfie, I Say a Little Prayer, I'll Never Fall in Love Again, Do You Know the Way to San Jose?, Raindrops Keep Falling on My Head, Promises Promises!, Close to You, among many others!
Marc is joined by guest artists Ashley Cotton, Mary McCue, Meera Mennillo, and Ariana Straznicky. Nick Stanford is Music Director and will lead a jazz combo. This very special musical evening will take place at the Shoreline Unitarian Universalist Society (SUUS), 297 Boston Post Road in Madison (directions to SUUS).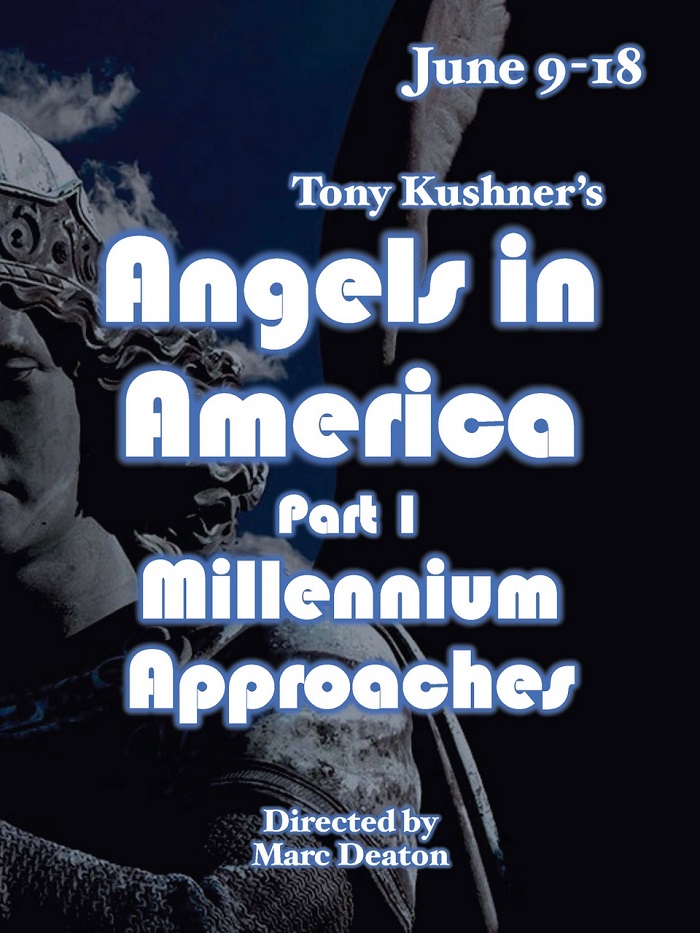 Madison Lyric Stage brings to the Shoreline the herculean work in two parts Angels in America by Tony Kushner. This season we present Part I: Millennium Approaches.  Subtitled A Gay Fantasia on National Themes, Tony Kushner's Pulitzer Prize and Tony award-winning play is a complex, often metaphorical and at times symbolic, examination of AIDS and homosexuality in America in the 1980s.
The two parts of the play, Millennium Approaches and Perestroika, are often presented over two nights, but may be presented separately. In 2003, HBO adapted Angels in America into a six-episode miniseries, using the same title.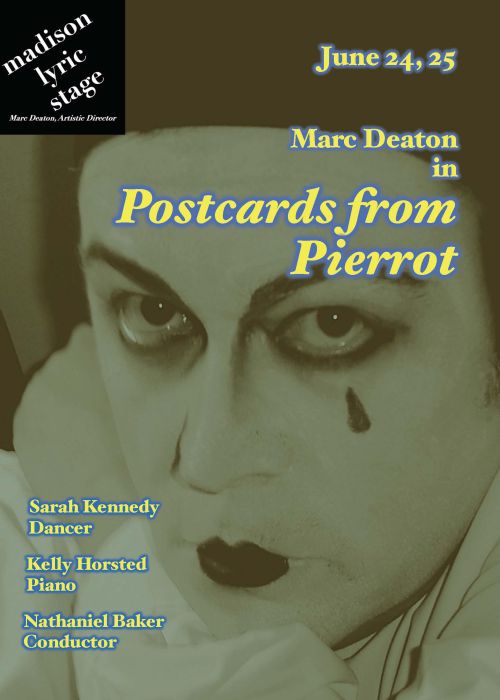 Join Marc Deaton for Postcards from Pierrot, his theatrical journey through great masterpieces of the twentieth century by Alban Berg and Arnold Schoenberg in which he explores the evolution of speak-singing and its effects on opera, jazz, and theater.
Alban Berg has figured prominently in the career of tenor Marc Deaton, including leading roles in the operas Wozzeck and Lulu. Mr. Deaton will perform Berg's elegant Altenberg Lieder based on picture postcard texts by Peter Altenberg.
The evening's journey progresses to two of Arnold Schoenberg's greatest vocal works: The Four Songs, Op. 2, with decadent texts by Richard Dehmel; and the surrealist masterpiece Pierrot Lunaire, based on poems by Albert Giraud. Kelly Horsted will collaborate on the piano for these works.
Mr. Deaton has performed Pierrot Lunaire at the prestigious Arnold Schoenberg Center in Vienna and many other distinguished venues. For a preview, go to this link to hear Mr. Deaton's performance at the  Schoenberg Center. 
Pierrot Lunaire will be performed with its full five-person orchestra conducted by Nathaniel Baker. Also appearing is dancer, Sarah Kennedy.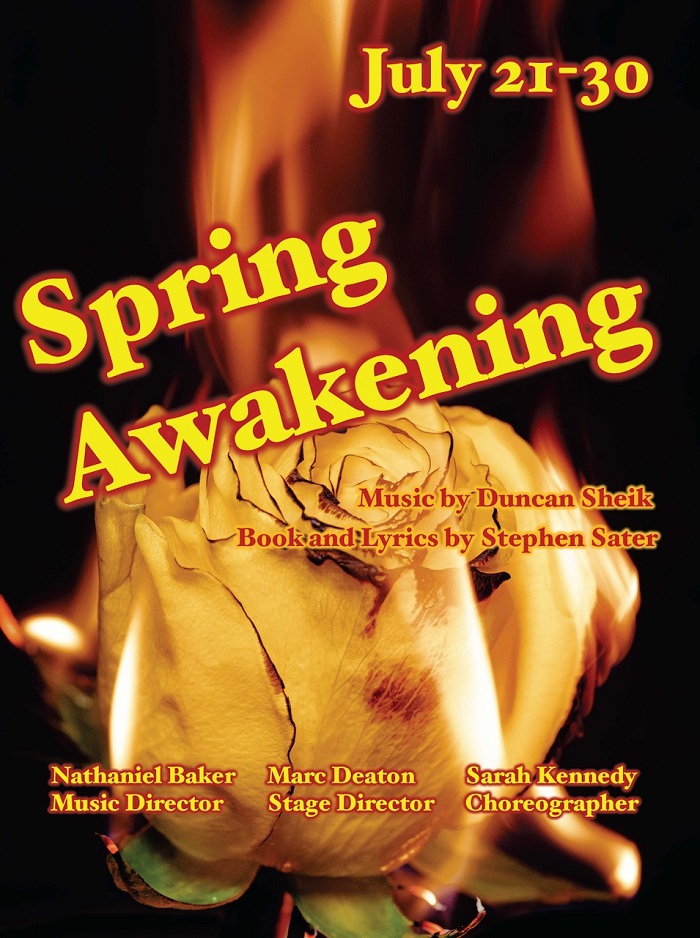 Spring Awakening is a rock musical with music by Duncan Sheik and a book and lyrics by Steven Sater. It is based on the 1891 German play Spring Awakening by Frank Wedekind. The musical tells the story of teenagers discovering the inner and outer tumult of adolescent sexuality.
The original Broadway production won eight Tony Awards, including the Tonys for Best Musical, Direction, Book, Score and Featured Actor. The production also garnered four Drama Desk Awards, while its original cast album received a Grammy Award.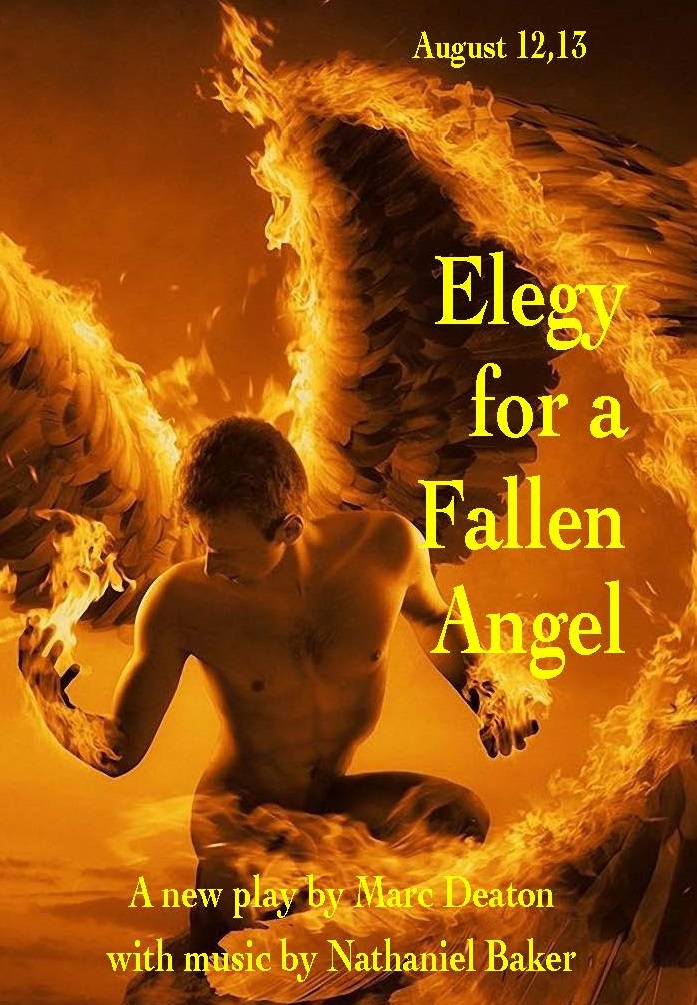 Madison Lyric Stage is proud to present the world premiere of a new play, Elegy for a Fallen Angel, by our artistic director, tenor Marc Deaton.
Mr. Deaton is no stranger to the role of playwright, penning his one-man show We Lived Only for the Music: Max Lorenz and the Third Reich, in 2018. In 2020, he premiered his memoir memory-play A Memory of Truth? with music by Nathaniel Baker.
After the great success of these works, Deaton again teams with Nathaniel Baker for original music for his latest play, Elegy for a Fallen Angel. The play explores the world of child neglect and abandonment as it intersects with a fantasy world invoked by angels and spirits of zealous beliefs in destiny, featuring new treatments of music of Henry Purcell and George Frederic Handel.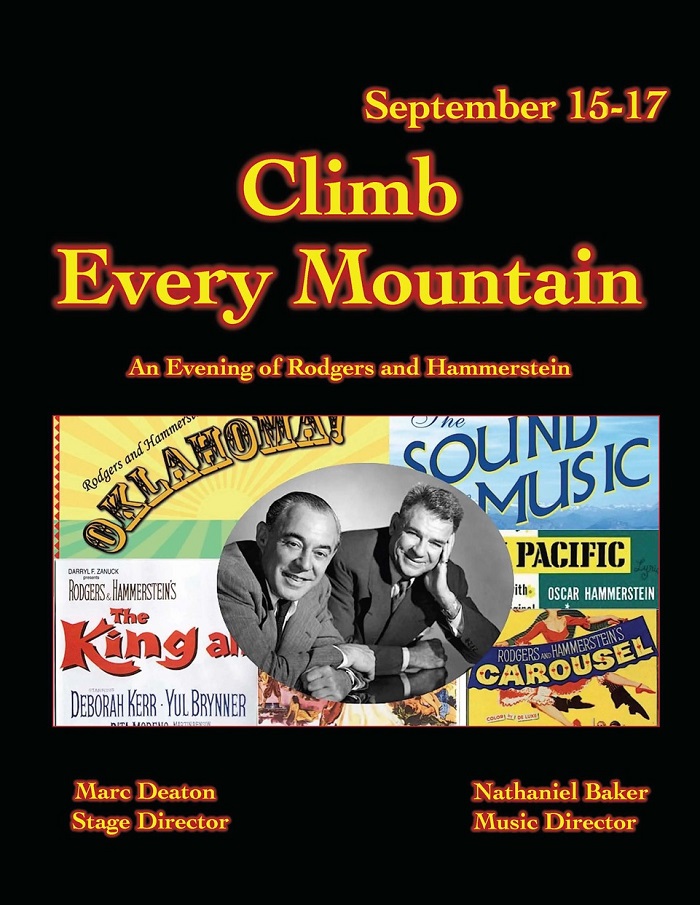 Madison Lyric Stage began its journey with an evening saluting the work of Stephen Sondheim and over the years has brought the Shoreline audience several salutes to famous composers from the world of musical theater.
At last, we present Climb Every Mountain: The Music of Rodgers and Hammerstein, perhaps the greatest musical theater team to write for the stage!
This salute will include selections from Oklahoma, Carousel, The King and I, South Pacific, Cinderella, State Fair, and The Sound of Music.